Back to all posts
Posted on
#LMEHomeChallenge Week 4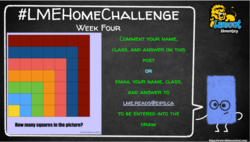 Next week is the last week of our #LMEHomeChallenge!  
For this final week we have a special math task for students and families to complete.  To enter the draw, comment on one of our #LMEHomeChallenge posts on Facebook, Instagram, or Twitter with your child's name, class, and answer to the question. If you are not on social media, you can email the information to lme.reads@eips.ca instead.
We will announce the winner of the draw on Wednesday, December 1.